Apply online
Visit our office
Mail documents
We prepare your documents and application
Receive visas
Submit application in person
Expert in Sri Lanka visa services since 2003,
VisaHQ is a private visa agency, not affiliated with the government of Sri Lanka. VisaHQ provides
expediting services
error-proofing your application
hand-carry delivery to Consulate
real-time status updates
dedicated call center
for visa to Sri Lanka and charges a service fee. See how we compare in the 90 seconds
video
and provide digital copies of the following documents:
a
A copy of your passport signed by the owner, valid for at least 6 months.
b
Negative COVID-19 test result. An applicant must provide a negative PCR Covid 19 test 72 hours before arrival.

c
COVID-19 Test Result. Be tested again upon arrival. A third test will be given on day 7.

d
Additional Requirements. All travelers must apply for an online visa and commit to a minimum of 14 days in the country.

Travelers must stay within one of
52 properties
for the first 14 days of their trip .
No preferential treatment will be given to travelers who have been vaccinated. All travelers including those who have been vaccinated must follow the Covid testing rules and stay at designated hotels for the first 14 days.
All travelers will be required to complete a health declaration form upon arrival that states they are not suffering from symptoms of Covid-19. Temperature upon arrival will also be recorded.
All travelers must be able to provide proof of a round trip plane ticket and sufficient funds to cover expenses while in Sri Lanka.
Any nationals, who have been in UK during last 14 days are not allowed to enter Sri Lanka.
At the point of entry, you must be able to present the return ticket, as well as a proof of sufficient financial means for the duration of stay.

Sri Lanka Visa for the citizens of Switzerland is electronic. No documents need to be sent to VisaHQ by post. You will receive your visa by e-mail.
Sri Lanka tourist e-visa fees for citizens of Switzerland
Type of visa

Validity

Maximum validity refers to the period over which you are allowed to enter a given country. Validity of visa starts from the date of issuance of visa.

Processing

Processing times start on the next business day following submission and serve as indications of processing times under normal circumstances only.

Embassy fee

Service fee
VAT
Total cost

Double entry

up to 6 months
Next business day
0.00
60.00
11.40
71.40
Validity: up to 6 months
Processing: Next business day
Total cost: 71.40

Cost calculation

Embassy fee:

0.00

Processing:

60.00

VAT:

11.40

Total cost: 71.40
Maximum stay in Sri Lanka:
30 days

Maximum stay refers to the number of days allowed on a single visit.
Maximum stay in Sri Lanka: 30 days

Maximum stay refers to the number of days allowed on a single visit.
Sri Lanka visa for citizens of Switzerland is required. For more information please contact the nearest
Sri Lanka embassy
.
Find us near you
To apply for Sri Lanka visa in
Address

VisaHQ.ch Murtenstrasse 114, 3202 Frauenkappelen

Office hours

Monday — Friday

9:00 am - 5:30 pm

Email

>a/< h;99#&;64#&;311#&;401#&;79#&;511#&i;811#&;46#&;111#&;201#&;011#&;501#&>"h;99#&;64#&;311#&;401#&;79#&;511#&i;811#&;46#&;111#&;201#&;011#&;501#&:otliam"=ferh a<
Sri Lanka visa information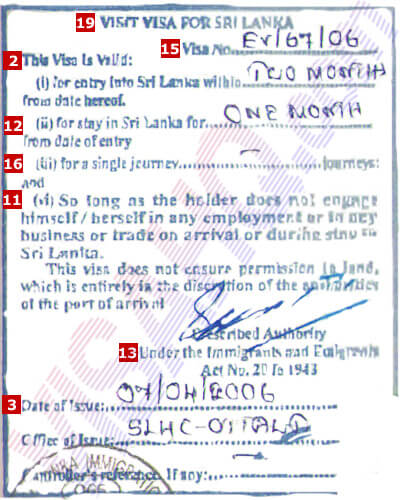 2
Sri Lanka Visa validity.
3
Sri Lanka Visa issue date (format might be different from MM-DD-YYYY).
11
Number of allowed entries to Sri Lanka (subject to visa validity dates).
12
Maximum duration of stay in Sri Lanka per each entry.
13
Sri Lanka Consulate that issued a visa.
15
Date of entry to Sri Lanka (format might be different from MM-DD-YYYY).
16
Date of Sri Lanka visa expiration
19
Business visa invitation number (applicable to Sri Lanka business visas only)